PEMBERDAYAAN KANTOR DESA CISEENG MELALUI PENGEMBANGAN SISTEM APLIKASI LAYANAN E- KELURAHAN DESA
Suhaeri Suhaeri

Universitas Yarsi

Bob Raozal

Hilma Suyana

Ario Adi Prakoso
Abstract
Current technological developments make people must be able to adapt to changes, including in the field of public services. Digital transformation carried out in public services is often referred to as e-government, where the service system is expected to be more efficient, effective, transparent and measurable. In an effort to implement e-government, this research was conducted at the Ciseeng Village office, Bogor Regency, where the service system is still carried out manually, that is, people come directly with documents as well as officers who take care of documents computerized. Based on these problems, previous research has created a mobile-based service application system and website where the features provided are several services that can be accessed by officers and the public. However, the available features still do not meet the required service requirements, therefore this research will develop service features. The application system design in this study uses the Waterfall method which consists of five stages, namely: requirements analysis, system and software design, implementation, application testing, and operation and maintenance. The results showed that additional services were achieved based on a needs analysis in the form of service features, including: making new birth certificates, pass documents, moving letters, and birth certificates. Based on the Usability Testing test on the e-kelurahan service application using the System Usability Scale (SUS) method for 17 respondents, the result was 76.91, which means that it meets the usability element and gets a B or "Good" value for use. In addition,
from an Islamic point of view, it is permissible to create something that can benefit many people, such as this e
-kelurahan application system, as long as it does not violate Islamic law, is not harmful and also presents problems.
References
Budiman, I., Saori, S., Anwar, R. N., Fitriyani, Pangestu, M. Y. Analisis Pengendalian Mutu Di Bidang Industri Makanan (Studi Kasus: UMKM Mochi Kaswari Lampion Kota Sukabumi. Jurnal Inovasi Penelitian 2021, 2185-2189.

Faizal, M., Syarif, A., Goeirmanto, L. Sistem Aplikasi Pelayanan Masyarakat Kelurahan Menggunakan Visual Basic.Net. Jurusan Teknik Informatika, Fakultas Ilmu Komputer,Universitas Mercu Buana 2010, 458-462.

Fridayanthie, E. W., dan Mahdiati, T. Rancang Bangun Sistem Informasi Permintaan ATK Berbasis Intranet (Studi Kasus: Kejaksaan Negeri Rangkasbitung). Jurnal Khatulistiwa Informatika 2016, 126-138.

Hendini, A. Pemodelan UML Sistem Informasi Monitoring Penjualan Dan Stok Barang (Studi Kasus: Distro Zhezha Pontianak. Jurnal Khatulistiwa Informatika 2016, 107-111.

Lenak, S. M. C., Sumampow, I., Waworundeng, W. Efektivitas Pelayanan Publik Melalui Penerapan Electronic Government di Dinas Pendidkan Kota Tomohon. Jurnal Governance 2021, 1(1), 1-9.

Maiyedra, N. A. Perancangan Sistem Informasi Promosi Tour Wisata Dan Pemesanan Paket Tour Wisata Daerah Kerinci Jambi pada CV. Rinai Berbasis Open Source. Jursima 2019, 7(1), 1-11.

Sabiq, A., Suhaeri, Hayurani H., Abror, A., Febriyanto, E. Sistem Layanan Desa Ciseeng Berbasis Web dan Android Untuk Meningkatkan Pelayanan Desa Pada Masyarakat. I-Com: Indonesian Community Journal 2022, 2(3), 606-619.

Supriyatna, A. Penerapan Usability Testing Untuk Pengukuran Tingkat Kebrgunaan Web Media of Knowledge. Jurnal Ilmiah Teknologi - Informasi dan Sains (TeknoIS) 2018, 8, 1-16.

Westerman, G., Calmejane, C., Bonnet, D., Ferraris, P., McAfee, A.. Digital Transformation: A Road-Map for Billion-Dollar Organizations MIT Cent. Digit. Bus. Capgemini Consult 2011, 1– 68.

Za, S. Z., Darma, D. C., Kusuma, J., Ratnasari, S. L., Tasente, T. Apparatus Performance as Mediation of Creativity and Innovation Towards the Successful Application of E-Kelurahan. European Journal of Human Resource Management Studies 2020, 4(2), 1-19.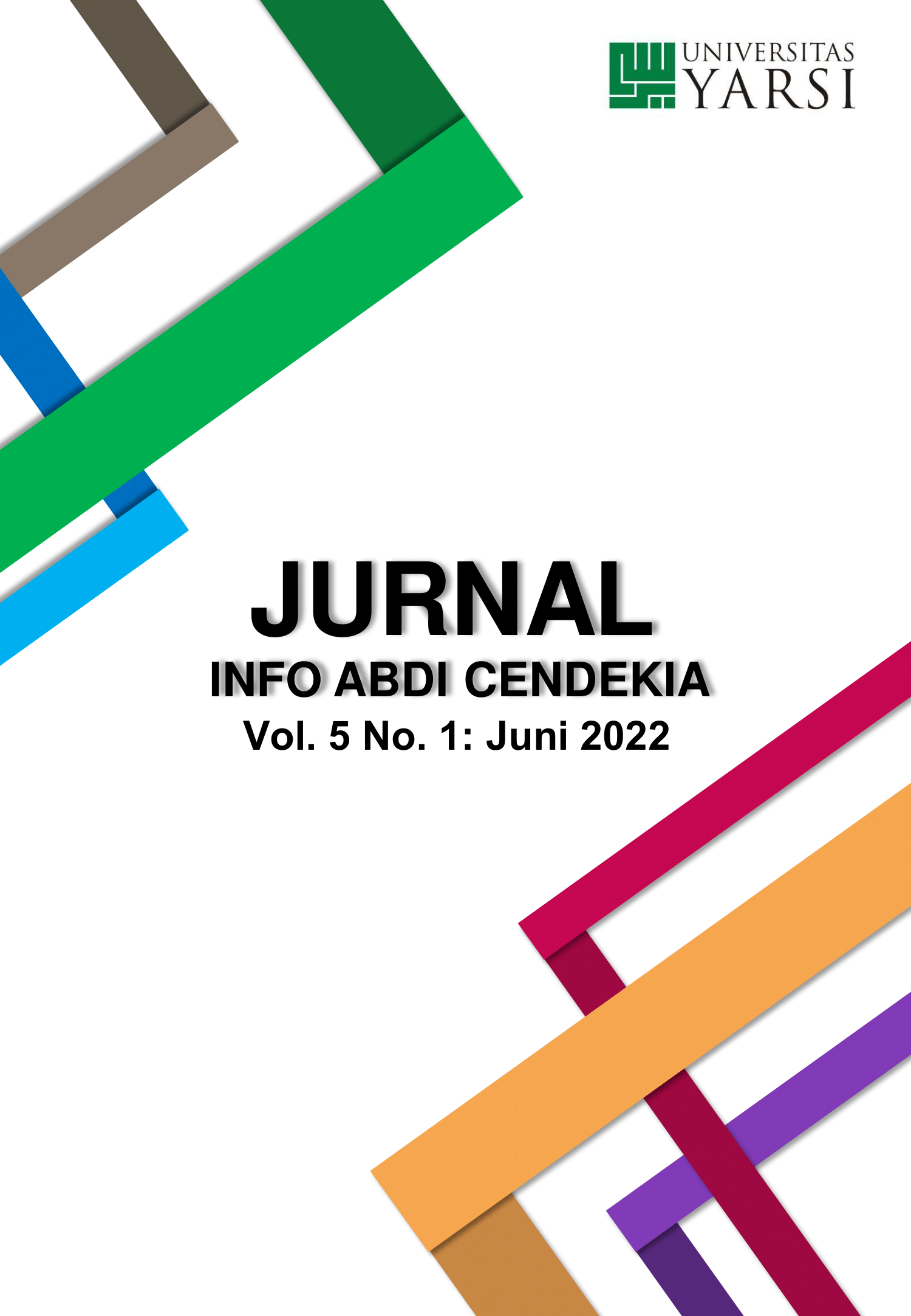 This work is licensed under a Creative Commons Attribution 4.0 International License.