Essensi Ruhul Islam dalam Tantangan Spiritual Era Kontemporer
Keywords:
Ruhul Islam, Spiritual, Kontemporer
Abstract
Pentingnya memahami dan membahas esensi ruhul Islam dalam era kontemporer (masa kini) tidak dapat diabaikan. Dalam konteks masa kini, di mana kita dihadapkan dengan berbagai perubahan sosial, teknologi, dan tuntutan kehidupan modern, sangat penting untuk memahami bagaimana nilai-nilai dan prinsip-prinsip Islam dapat diterapkan secara relevan dalam kehidupan kita. Era kontemporer ditandai dengan kemajuan teknologi, globalisasi, dan perubahan sosial yang cepat, seringkali mempengaruhi nilai-nilai spiritual dan keyakinan agama seseorang. Tantangan spiritual dalam era kontemporer meliputi materialisme, konsumerisme, sekularisme, kemajuan teknologi, dan pluralisme serta toleransi, perpecahan golongan umat islam terkait dengan adanya ajaran-ajaran islam yang menyimpang makin sering terjadi. Penting bagi umat Islam untuk kembali memperdalam, memahami dan mewujudkan essensi Ruhul Islam dalam praktik kehidupan kontemporer. Essensi Ruhul Islam mengacu pada pemahaman dan penghayatan yang benar akan Islam sebagai agama. Tujuan penelitian ini adalah untuk menganalisis dan memahami secara mendalam esensi Ruhul Islam dan nilai-nilai spiritual yang diemban oleh ajaran Islam, sehingga nilai-nilai tersebut dapat membantu individu Muslim menghadapi tantangan spiritual yang dihadapi dalam era kontemporer. Metode penelitian yang digunakan adalah studi literatur yakni analisis terhadap sumber-sumber literatur yang relevan dengan topik penelitian. Hasil Penelitian menunjukkan bahwa penerapkan esensi Ruhul Islam dapat membawa dampak positif pada kualitas spiritual dan kenyakinan beragama individu Muslim, membantu kita menghadapi tantangan dan cobaan dengan lebih baik, serta mencapai kedamaian pikiran dan jiwa dalam menghadapi tekanan kehidupan kontemporer.
References
Azisi, Ali Mursyid. "Peran Agama dalam Memelihara Kesehatan Jiwa dan Kontrol Sosial Masyarakat", Jurnal Psikologi Islam Al-Qalb, Vol. 11, No. 2 (2020), 55-75. https://ejournal.uinib.ac.id/jurnal/index.php/alqalb/article/view/1683
Amalia, Fithria Khusno., Solihin, Muhtar., Yunus, Badruzzaman M. "Nilai-nilai Ulul Azmi dalam tafsir Ibn Katsir", Al-Bayan: Jurnal Studi Al-Qur"an dan Tafsir, Vol. 2, No. 1. (2017), 71-77. https://journal.uinsgd.ac.id/index.php/Al-Bayan/article/view/1810
Bafadhol, Ibrahim. "Tujuan Hidup Dalam Perspektif Al-Qur'an", Al-Tadabbur: Jurnal Ilmu Al-Qur'an dan Tafsir, Vol. 2, No. 3 (2017), 25-40. http://dx.doi.org/10.30868/at.v2i03
Eni, Zulaiha. "Tafsir Kontemporer: Metodologi, Paradigma dan Standar Validitasnya", Wawasan: Jurnal Ilmiah Agama dan Sosial Budaya, Vol. 2, No. 1 (2017), 81-94. https://journal.uinsgd.ac.id/index.php/jw/article/view/780/937
Fakhruroji, Moch., Rustandi, Ridwan, Busro. "Bahasa Agama di Media Sosial: Analisis Framing pada Media Sosial Islam Populer", Jurnal Bimas Islam, Vol. 13, No. 2 (2020), 203-234. https://doi.org/10.37302/jbi.v13i2.294
Faridah, Siti., Zahroh, Nur Lailatus., Nulinnaja, Ratna. "Penguatan Kualitas Spiritual Lansia Melalui Kegiatan Keagamaan Di Karang Werda Kota Malang", JMM (Jurnal Masyarakat Mandiri), Vol. 4, No. 4 (2020), 595-605. https://journal.ummat.ac.id/index.php/jmm/article/view/2549/pdf
Juwaini, Juwaini., Rahmasari, Lilis Suci. "Kosmologi Harun Yahya Dan Kritiknya Terhadap Materialisme: Integrasi Agama Dan Sains", Abrahamic Religions: Jurnal Studi Agama-Agama, Vol. 2, No. 2 (2022), 170-185. https://jurnal.ar-raniry.ac.id/index.php/abrahamic/article/view/13404
Linge, Abdiansyah. "Filantropi Islam Sebagai Instrumen Keadilan Ekonomi", Jurnal Perspektif Ekonomi Darussalam, Vol. 1, No. 2 (2015), 154-171. https://jurnal.usk.ac.id/JPED/article/ download/6551/5368
Muhtar, Arifin Sholeh Muhammad. "Pola Penyimpangan Muslim Terhadap Ajaran Agamanya (Perspektif Pendidikan Islam)", Al-Fikri Jurnal Studi dan Penelitian Pendidikan Islam, Vol. 1 No.1 (2018), 1-21.
http://dx.doi.org/10.30659/jspi.v1i1.2429
Mustofa, Saiful. "Meneguhkan Islam Nusantara Untuk Islam Berkemajuan", Epistemé, jurnal pengembanagan ilmu keislaman, Vol. 10, No. 2 (2015), hal. 405-434. https://ejournal.uinsatu.ac.id/index.php/epis/article/view/187/132
Naan. "Model Terapi Ibadah Dalam Mengatasi Kegersangan Spiritual", Shifa Al-Qulub: Jurnal Studi Psikoterapi Sufistik, Vol. 2 No. 2 (2018), hal. 104-113. https://journal.uinsgd.ac.id/index.php/syifa-al-qulub/article/view/2971
Nofiaturrahmah, Fifi. "Penanaman Karakter Dermawan Melalui Sedekah", Ziswaf: Jurnal Zakat dan Wakaf, Vol. 4, No. 2 (2017), hal. 313-326. https://journal.iainkudus.ac.id/index.php/Ziswaf/article/view/3048
Noor, Syafri Muhammad. Khusuk Dalam Shalat, Jakarta: Rumah Fiqih Publishing, 2018.
Rahman, Mohamad S. "Kajian Matan Dan Sanad Hadits Dalam Metode Historis", Jurnal Ilmiah Al-Syir'ah, Vol. 8, No. 2 (2010), hal. 425-436. http://journal.iain-manado.ac.id/index.php/JIS/article/%20view/%2015/14
Ritonga, A. Rahman. "Memahami Islam Secara Kaffah: Integrasi Ilmu Keagamaan Dengan Ilmu-Ilmu Umum", Islam Realitas: Journal of Islamic & Social Studies, Vol. 2, No. 2 (2016), 119-138. https://ejournal.iainbukittinggi.ac.id/index.php/Islam_realitas/article/view/18
Rohandi, Mochamad Malik Akbar., Aziz, Helmi., Taja, Nadri., Yuliawati, Tia., Giraliyandi, Maudina Putri., Sutina, Hani. "Implementasi Ruhul Islam Terhadap Pembentukan Karakter Mahasiswa Di Perguruan Tinggi Berbasis Islam Dan Teknologi Informasi", TA'ALLUM: Jurnal Pendidikan Islam, Vol. 5, No. 2 (2017), 369-388. https://ejournal.uinsatu.ac.id/index.php/taalum/article/view/713
Rosada, Bintang. "Islamophobia Dan Dampaknya Bagi Kehidupan Beragama Di Indonesia", Sophist: Jurnal Sosial Politik, Kajian Islam dan Tafsir, Vol. 4, No. 1 (2022), 1-20. https://doi.org/10.20414/sophist.v4i1.53
Rosyid, Abd., Na'imah. "Efektivitas Pendampingan Orang Tua Terhadap Kemandirian Ibadah Anak Usia Dini", Jurnal Golden Age, Vol. 6, No. 2 (2022), 545-552. http://e-journal.hamzanwadi.ac.id/index.php/jga/article/download/6634/3085
Safrilsyah, Yusoff, Mohd Zailani bin Mohd., Othman, Muhammad Khairi bin. "Moral Dan Akhlaq Dalam Psikologi Moral Islami", Psikoislamedia Jurnal Psikologi, Vol. 2, No. 2 (2017), 155-169. https://jurnal.ar-raniry.ac.id/index.php/Psikoislam/article/view/2414/2097
Said, Suaring. "Wawasan Al-Qur'an Tentang Ibadah". Jurnal Syari'ah dan Hukum Diktum, Vol. 15, No. 1 (2017), 44-54. https://doi.org/10.35905/diktum.v15i1.424
Tim Rembulan. "Majelis Tarjih Dukung Aksi Pesulap Merah Bongkar Perdukunan Berkedok Agama", https://www.liputan6.com/islami, 31/8/2022.
Wiguna, Rahmad., Syahbuddin, Safriadi. "Diserbu Gadget, Kaum Pemuda masa kini dinilai lebih individualistis dan tidak produktif", https://aceh.tribunnews.com,/19/10/2019.
Wiryono, Singgih., Asril, Sabrina. "Temuan Sementara MUI soal Ponpes Al-Zaytun", https://nasional. kompas.com/read, 21/06/2023.
Zailiah, Siti. "Internalisasi Nilai-Nilai Religius bagi Peserta Didik", Jurnal Faidatuna, Vol. 4, No. 2 (2023), 54-62. https://www.journal.staidenpasar.ac.id/index.php/ft/article/download/214/197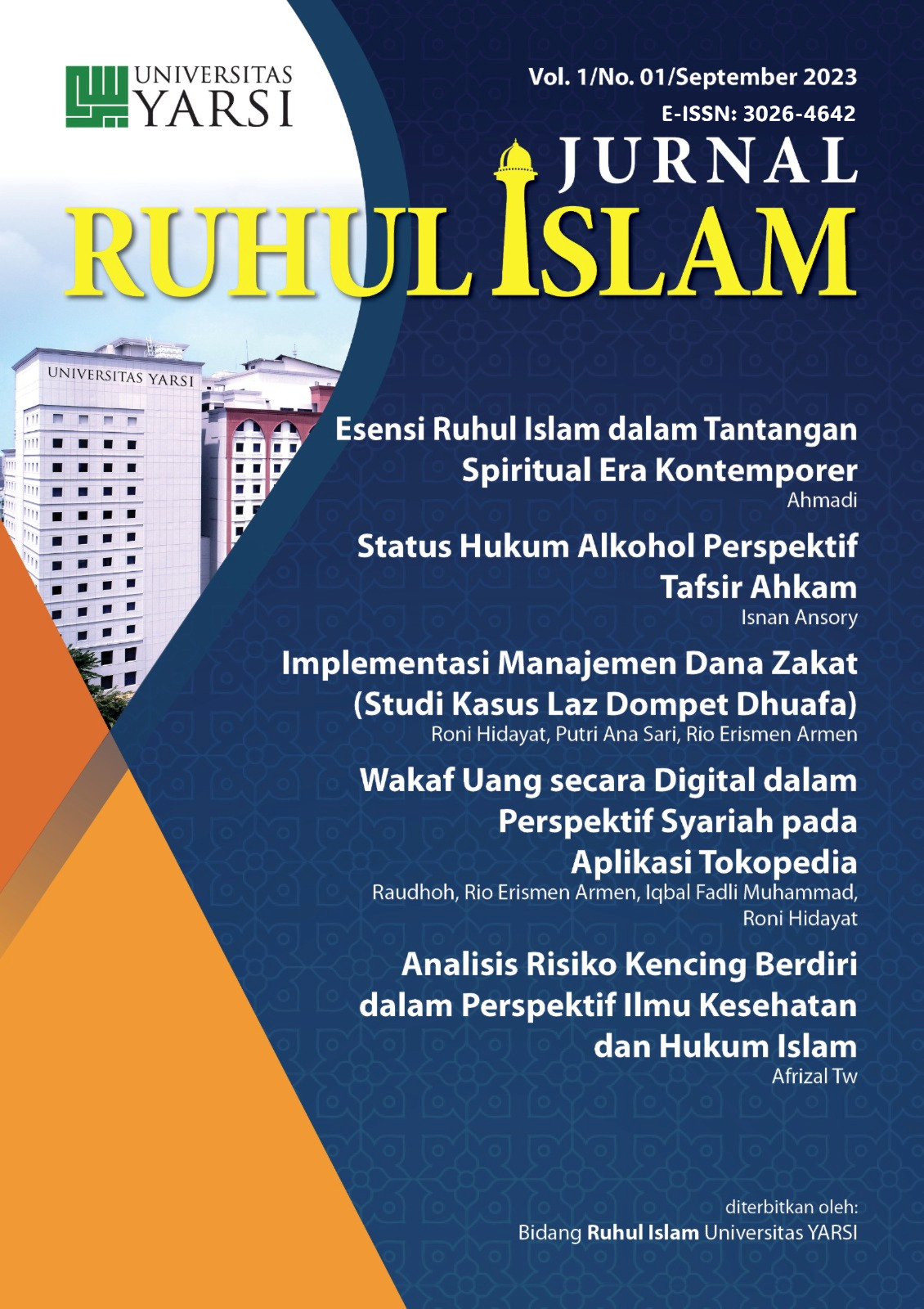 Downloads
How to Cite
Ahmadi. (2023). Essensi Ruhul Islam dalam Tantangan Spiritual Era Kontemporer. Jurnal Ruhul Islam, 1(1), 1–17. https://doi.org/10.33476/jri.v1i1.102
License
Copyright (c) 2023 Jurnal Ruhul Islam
This work is licensed under a Creative Commons Attribution-ShareAlike 4.0 International License.
Jurnal Ruhul Islam is published by Universitas YARSI under license:

This work is licensed under a Creative Commons Attribution-ShareAlike 4.0 International License.
You are free to:
Share — copy and redistribute the material in any medium or format
Adapt — remix, transform, and build upon the material for any purpose, even commercially.
The licensor cannot revoke these freedoms as long as you follow the license terms.

Under the following terms:
Attribution — You must give appropriate credit, provide a link to the license, and indicate if changes were made. You may do so in any reasonable manner, but not in any way that suggests the licensor endorses you or your use.
ShareAlike — If you remix, transform, or build upon the material, you must distribute your contributions under the same license as the original.
No additional restrictions — You may not apply legal terms or technological measures that legally restrict others from doing anything the license permits.

Notices:
You do not have to comply with the license for elements of the material in the public domain or where your use is permitted by an applicable exception or limitation.
No warranties are given. The license may not give you all of the permissions necessary for your intended use. For example, other rights such as publicity, privacy, or moral rights may limit how you use the material.