Perancangan Panel Surya di Wilayah Kavling Rawa Bunga, Tangerang Selatan demi Penghematan Energi Masyarakat
Keywords:
panel surya, energi, ramah lingkungan
Abstract
Since youth are not merely social statuses that are easily ordered or treated with disdain, but also need to be appreciated by providing proper chances, the role of youth in starting a community service program does need to be followed up. Field research and literary analysis are the first steps in this innovation. The fact that doing simulation activities or innovations necessitates so many references is, of course, why a literature study is necessary. To ensure that the work done does not cease, this activity's last stage involves drawing conclusions till it becomes a report and publishing it. The Graha Raya's solar panel design is particularly adaptable because it simply uses the edge area as a solar panel roof. If there are people who want to engage in fishing activities and if they want to innovate more, this solar panel roof will be able to protect them from the heat.
References
Isma, Z. (2021). Perancangan Pusat Edukasi Ramah Lingkungan di Kabupaten Gresik dengan Pendekatan Focus on Material Lokal. Malang: UIN Maulana Malik Ibrahim.
Jati, R. R., Sofiyanti, B., & Dewadi, F. M. (2022). Pengenalan Material Yang Digunakan Dalam Proses Pengelasan Berdasarkan Spesifikasi Material. Empowerment, 300-305.
Jefrry. (2014, Februari 3). beritatangsel. Retrieved from beritatangsel.com: https://beritatangsel.com/2014/02/03/reorganisasi-karang-taruna-kavling-rawa-bunga/
Mulyadi, D., Dewadi, F. M., Amir, Murtalim, & Khoirudin. (2021). Analisis Rancangan Sel Surya untuk Kebutuhan Cadangan Energi Listrik di Kolam Wilayah Graha Raya Bintaro, Tangerang Selatan. Mechanical Xplore, 6-12.
Rahim, A. (2020). Perkembangan Pemikiran Ekonomi Islam. Makassar: Penerbit Yayasan Barcode.
Raja Ma'arof, R. A., Saputra, O. A., Dewadi, F. M., & Noor, A. (2021). Engaging Students: Blending Class Activities with Industry-linked Teaching Approach in Occupational Safety and Health Course Delivery . Selangor: Universiti Kuala Lumpur.
Romadhoni, M. A. (2020). Perencanaan Pembangunan Sistem Pembangkit Listrik Tenaga Surya on Grid (Roof Top) pada Atap Gedung Berkapasitas 10 kWp di Gedung Inspektorat Daerah Kota Samarinda, Kalimantan. Jakarta: Institut Teknologi PLN.
Wibowo, C., Setiawan, D., Dewadi, F. M., & S, B. H. (2021). Improvement of Drainage as One of The Solutions for Flood Control in RT 12 RW 06 Cakung Penggilingan East Jakarta. International Journal of Engagement and Empowerment, 174-183.
Wibowo, C., Sukarno, S., Nursanti, Y. B., & Dewadi, F. M. (2022). Kebutuhan Perguruan Tinggi di Wonogiri sebagai Bagian dari Pengembangan Sumber Daya Manusia. Jurnal Penelitian Komunikasi dan Sosial Politik, 20-27.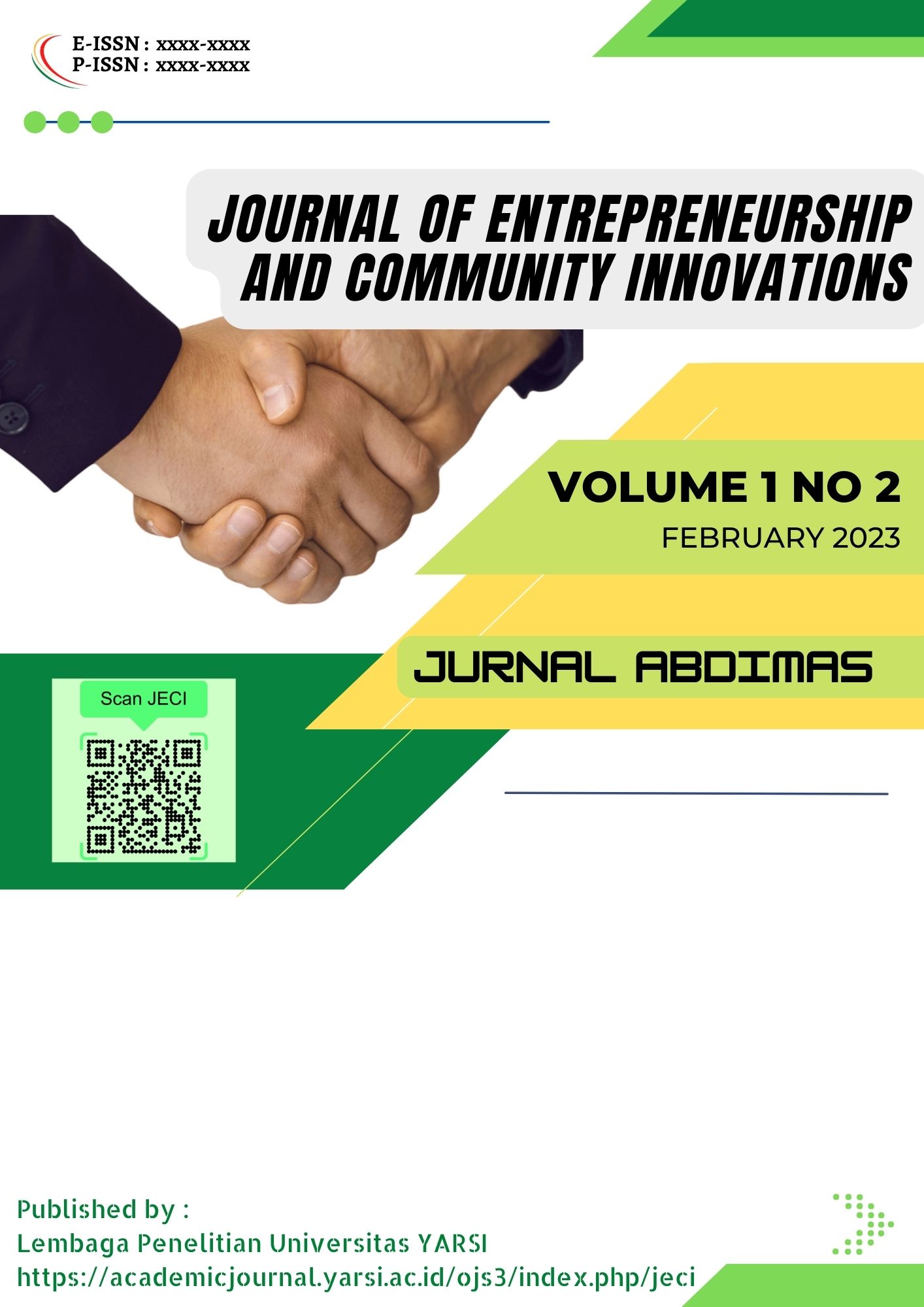 Downloads
License
Copyright (c) 2022 Fathan Mubina Dewadi Fathan
This work is licensed under a Creative Commons Attribution-NonCommercial-ShareAlike 4.0 International License.

This work is licensed under a CC Attribution-ShareAlike 4.0 International License