Pelatihan Pemasaran UMKM Berbasis Media Sosial pada Desa Mandalamekar Kabupaten Bandung
Keywords:
UMKM , Peningkatan , alternatif
Abstract
This research aims to evaluate the knowledge, skills, and implementation of social media marketing in Mandalamekar Village, Cimenyan District, Bandung Regency. It is based on the fact that one of the challenges faced by villages in general is a lack of knowledge about online marketing, especially with the advancement of internet technology. Therefore, it is important to provide training on social media-based marketing for micro, small, and medium enterprises (UMKM) to facilitate easier transactions through applications. The implementation method consists of an initial analysis, which includes surveys and training for UMKM in social media marketing, and involves other relevant parties. The training activities involve both internal and external speakers. The results of the training implementation show an improvement in the quality of video production for UMKM marketing in the Karang Taruna community organization.
References
Aisyah, Siti., & Rachmadi, K. R. (2022). Digitalisasi Pemasaran Melalui Sosial Media Marketing Pada Pelaku UMKM Guna Peningkatan Pendapatan. Reswara: Jurnal Pengabdian Kepada Masyarakat, 3(2). https://doi.org/10.46576/rjpkm.v3i2.1866
Ali, M., & Ahmad, S. (2020). The Role of Social Media Marketing in Building Brand Loyalty: A Case Study of Fast Food Industry. Journal of Marketing and Consumer Research, 67, 55-67.
Andriana, AN., Hijrah, L., Putri, DA.,Putri, WU., Fauziah, S., Darus, CO. (2022). Pelatihan Strategi Social Media Marketing Menggunakan Instagram Dalam Meningkatkan Penjualan Online. JMM : Jurnal Masyarakat Mandiri, 6(2). https://doi.org/10.31764/jmm.v6i2.7336
Darmastuti, S. ., Juned, M., Ali, S., & Satrio, J. (2021). Pelatihan Pembuatan Konten Media Sosial Dalam Strategi Marketing Bagi Karang Taruna Desa Panyirapan, Serang. Jurnal Pengabdian Masyarakat, 1(3), 83-92. Diambil dari http://ejournal.pskp.or.id/index.php/jpm/article/view/18
Jauhari, A.,Najib,m., Aminah, M.(2022). Perilaku Adopsi E-Commerce Usaha Mikro Kecil Menengah (UMKM) Makanan dan Minuman di Masa Pandemi COVID-19. Researchgate, 13 (4). https://doi.org/10.29244/jmo.v13i4.37567
Mulyana, S., & Suryani, Y. (2020). Micro, Small, and Medium Enterprises (MSMEs): An Overview. Journal of Entrepreneurship, Business and Economics, 8(1), 98-113.
Rehman, A., & Nasir, N. (2015). Role of Micro, Small and Medium Enterprises (MSMEs) in Economic Growth: A Case Study of Pakistan. Journal of Economics and Sustainable Development, 6(9), 48-58. https://doi.org/10.33258/birci.v5i2.5140
Smith, J., & Brown, A. (2020). The Role of Social Media in Modern Marketing Strategies. Journal of Marketing Trends, 45(6), 32-45.
Taufik, T., Pamuji Setiawan, Yuri Fitrian, Eko Hendrawan, Sucipto, S., & Anggi Andriyadi. (2023). Penyuluhan Pemanfaatan Sosial Media Untuk Pemasaran Produk UMKM Di Masa Era Digitalisasi. J-ABDI: Jurnal Pengabdian Kepada Masyarakat, 3(3), 523–528. https://doi.org/10.53625/jabdi.v3i3.6269
Wijiastuti, s., Darmaningrum, k., Widodo ZD. (2021) Pengenalan Digital Marketing, Pelatihan Sosial Media Dan E-Commerce Dan Merancang Konten Pemasaran Yang Baik Bagi Pelaku Usaha Umkm Di Yayasan Amal Bakti Sudjono Taruno Baki Sukoharjo. PADMA Pengabdian Dharma Masyarakat Pengenalan Digital Marketing, 1(4). http://dx.doi.org/10.32493/jpdm.v1i4.13483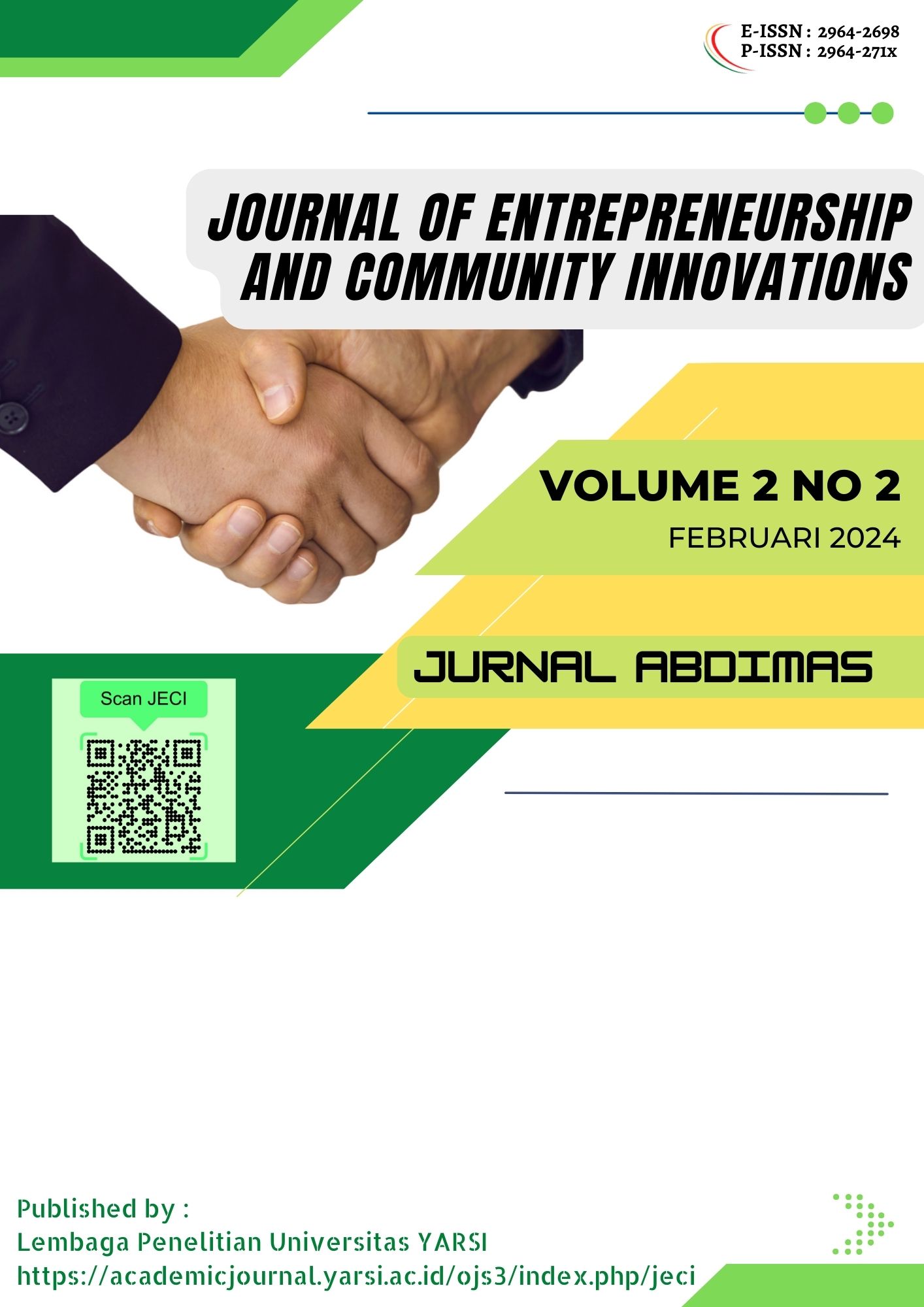 Downloads
License
Copyright (c) 2023 Harry Budiantoro, Dean Salomo Anthonio, Perdana Wahyu Santosa, Hesty Juni Tambuati Subing, Nurfadhilah Zahra, Lison Wiratama
This work is licensed under a Creative Commons Attribution-ShareAlike 4.0 International License.

This work is licensed under a CC Attribution-ShareAlike 4.0 International License