ANALISIS TERHADAP PERILAKU KONSUMEN PRODUK FASHION MUSLIM
Abstract
This study aims to determine how the level of consumers who are represented by respondents as the object under study to purchase Muslim Fashion product and how to choose in determining shopping place/media. Although consumers of Muslim Fashion product have understood Islamic sharia ethics, yet innovative breakthroughs continue to create exciting amenities and offers and eventually may influence to Muslims consumption behaviour.
DOI:
https://doi.org/10.33476/jeba.v3i2.962
Refbacks

This work is licensed under a
Creative Commons Attribution 4.0 International License
.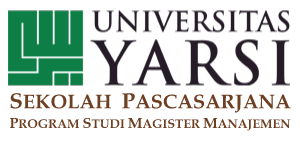 Alamat Penyunting:
Program Studi Magister Manajemen
Sekolah Pascasarjana Universitas YARSI
Jl. Letjen Soeprapto, Cempaka Putih, Jakarta- Indonesia 10510
Telp. (021) 4206674, 4206675, 4206676, Fax, No. (021) 4243171

JEBA (Journal of Economics and Business Aseanomics)
is licensed under a
Lisensi Creative Commons Atribusi 4.0 Internasional