KARAKTERISTIK KEWIRAUSAHAAN MAHASISWA FAKULTAS EKONOMI UNIVERSITAS YARSI
Abstract
This study examines to capture a description of entrepreneurial characteristics owned by students of the Faculty of Economics, University of YARSI. As a reference, this study uses seven entrepreneurial characteristics formulated by Bezzina (2010), namely: Need of Achievement, Internal Locus of Control, Ambiguity Tolerance, Self-Confidence, Creativity or Innovativeness, Risk-taking Propensity, and Self-sufficiency or Freedom. Furthermore, this research uses quantitative descriptive method to get an idea to what extent entrepreneurial characteristics mastered by students of the Faculty of Economics, University of YARSI.Questionnaires distributed to 150 respondents consist of alumni and active students who have received Entrepreneurship courses, both from Accounting and Management major. In general, the entrepreneurial characteristics in the Faculty of Economics YARSI University is classified Medium, but there are two dimensions that fall into High category, which are Need of Achievement and Self-confidence. The finding also showed that male respondents had higher entrepreneurial characteristics than female respondents. In addition, Management students also had better characteristics than Accounting's, while the alumni's entrepreneurial characteristics are more developed than the active students.
DOI:
https://doi.org/10.33476/jeba.v3i2.959
Refbacks

This work is licensed under a
Creative Commons Attribution 4.0 International License
.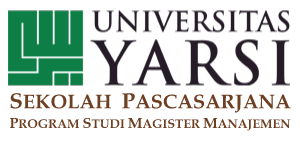 Alamat Penyunting:
Program Studi Magister Manajemen
Sekolah Pascasarjana Universitas YARSI
Jl. Letjen Soeprapto, Cempaka Putih, Jakarta- Indonesia 10510
Telp. (021) 4206674, 4206675, 4206676, Fax, No. (021) 4243171

JEBA (Journal of Economics and Business Aseanomics)
is licensed under a
Lisensi Creative Commons Atribusi 4.0 Internasional