PENGARUH KUALITAS LAYANAN TERHADAP LOYALITAS GURU DENGAN KEPUASAN KERJA SEBAGAI VARIABEL INTERVENING DI SEKOLAH ISLAM TERPADU (SIT)
Abstract
This study is to determine the effect of service quality and job satisfaction on the loyalty of teachers and employees in the Integrated Islamic School, using path analysis test using pathPLS 3.0, which is a causal step (path of coefficient) strategy, this model aims to determine the direct and indirect set of independent variables (exogenous) to the dependent variable (endogenous), path keofisien value or the magnitude of the relationship or the effect of latent constructs carried out by the Bootrapping procedure measurement results show significant results this means that service quality variables are able to strengthen the variable job satisfaction and loyalty variables. Respondents in this study were teachers and employees of the Integrated Islamic School in the Banyuwangi Regency area, which amounted to 145 samples using non probability sampling techniques with a purposive sampling approach. The results showed that service quality has a significant direct effect as well as through job satisfaction as a mediator of loyalty. It is known that the indirect effect of the job satisfaction variable as mediator on loyalty variables is stronger than the direct effect of the service quality variable on the loyalty variable.
DOI:
https://doi.org/10.33476/jeba.v3i2.957
Refbacks

This work is licensed under a
Creative Commons Attribution 4.0 International License
.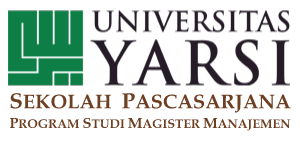 Alamat Penyunting:
Program Studi Magister Manajemen
Sekolah Pascasarjana Universitas YARSI
Jl. Letjen Soeprapto, Cempaka Putih, Jakarta- Indonesia 10510
Telp. (021) 4206674, 4206675, 4206676, Fax, No. (021) 4243171

JEBA (Journal of Economics and Business Aseanomics)
is licensed under a
Lisensi Creative Commons Atribusi 4.0 Internasional