THE FUNDRAISING STRATEGY OF ZAKAT IN NATIONAL ZAKAT AGENCY OF EAST JAVA
Abstract
This study aimed to gain strategy and zakat fundraising strategy evaluation applied at National Zakat Agency of East Java Province. This study used qualitative approach by primary and secondary data collecting. Interviewers of this study who came from different background, which are National Zakat Agency of East Java Province employees and academicians. Finding of this study shows there are three strategies at National Zakat Agency of East Java Province, the strategy is to build an image of an independent and professional institution, creates standardize the working mechanism of the zakat management organization, and build a muzaki and mustahik data base centrally . This study also informs socialization become main reason to increase zakat fundraising at National Zakat Agency of East Java Province.
Keywords
Zakat, Fundraising, National Zakat Agency of East Java Province
References
Abidah, Atik. 2016. Analisis Strategi Fundraising Terhadap Peningkatan Pengelolaan Zis Pada Lembaga Amil Zakat Kabupaten Ponorogo". Kodifikasia: Volume 10 No. 1
AL-QUR'AN. tafsirweb.com dapat diakses melalui https://tafsirweb.com/2867 surat-al-anfal-ayat-1.htm
Al-Zuhaily, Wahbah. 1997. Zakat Kajian Berbagai Madzhab. Bandung : PT Remaja Rosdakarya
As-Sunnah HR. Muslim
As-Sunnah HR. Bukhari
Canggih, Clarashinta, Khusnul Fikhriyah, dan Ach. Yasin. 2017. Potensi dan Realisasi Dana Zakat di Indonesia. Al-Uqud: Journal of Islamic Economics Volume 1 Nomor 1
Ridwan, Murtadho, 2016. Analisis model fundraising dan distribusi Dana ZIS di UPZ Desa Wonoketingal Karanganyar Demak, Jurnal Penelitian Volume 10 Nomor 2
Haki, Ubay, 2020. Pengaruh Pengetahuan Zakat dan Citra Lembaga terhadap minat Muzakki dalam membayar Zakat Fitrah. Syi'ar Iqtishadi: Journal of Islamic Economics, Finance and Banking Volume 4 Nomor 1
Moleong, L. (2014). Metodologi Penelitian Kualitatif. Bandung: Rosdakarya.
Muna,Niltal, Muhammad, & Hapsari, Indri Meri, 2015, Implementasi Managemen Strategik Syariah di BMT Amanah Ummah, Jurnal Ekonomi Syariah: Teori dan Terapan, Volume 2 Nomor 12
Nawawi, Hadari. 2003. Menejemen Strategik Organisasi Non Profit Bidang Pemerintahan dengan Ilustrasi di Bidang Pendidikan. Yogyakarta: Gajah Mada University Press
Nopiardo,Widi. 2017. Strategi Fundaising Dana Zakat pada Baznas Kabupaten Tanah Datar, Jurnal Riset Ekonomi Islam. Volume 1 No. 1
Nur'aini Hanifah & Ridha Rasyid M, 2015.Pengaruh Kualitas Layanan , citra Lembaga, dan religiusitas untuk menyalurkan zakat profesi, Juli-Desember https://media.neliti.com/
Peraturan Badan Amil Zakat Nasional Republik Indonesia No. 02 Tahun 2019 tentang Tugas dan Wewenang Pemimpin Badan Amil Zakat Nasional Provinsi dan Pemimpin Badan Amil Nasional Kabupaten/ Kota
Qardhawi, Yusuf. 2007. Hukum Zakat. Jakarta: Lentera AntarNusa
Rasjid, Sulaiman. 2013. Fiqh Islam. Bandung: Penerbit Sinar Baru Algensindo.
Sari, Purnama, Dian, 2017, Analisis Strategi Penghimpunan Zakat dengan Pendekatan Business Model Canvas, Human Falah, Jurnal Ekonomi dan Bisnis Islam, Volume 4 Nomor 2
Sugiono. 2017. Metode Penelitian Kuntitatif, Kualitatif, dan R&D. Bandung: CV ALFABETA
Taufiqurokhman. 2016. Manajemen Strategik. Jakarta Pusat: Fakultas Ilmu Sosial dan Politik Universitas Prof. Dr. Moestopo Beragama
Yusrizal., Ghofur Abdul, Sabri, Husni, Pengarung Marketing social dan optimism Amil zakat terhadap ootimalisasi fundraising Dana Zakat,Proceeding IAIN Batu Sangkar, volume 1, nomor 1
DOI:
https://doi.org/10.33476/j.e.b.a.v6i1.1927
Refbacks
There are currently no refbacks.

This work is licensed under a
Creative Commons Attribution 4.0 International License
.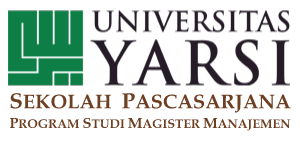 Alamat Penyunting:
Program Studi Magister Manajemen
Sekolah Pascasarjana Universitas YARSI
Jl. Letjen Soeprapto, Cempaka Putih, Jakarta- Indonesia 10510
Telp. (021) 4206674, 4206675, 4206676, Fax, No. (021) 4243171

JEBA (Journal of Economics and Business Aseanomics)
is licensed under a
Lisensi Creative Commons Atribusi 4.0 Internasional