Enhancing Self-Compassion Program (ESP) untuk Meningkatkan Self-Compassion pada Mahasiswa
Keywords:
enhancing self-compassion program, self-compassion, student
Abstract
Dalam menghadapi masalah, seringkali individu terjebak pada perilaku untuk menyalahkan serta menghukum diri sendiri. Perilaku tersebut dapat mengarahkan individu untuk berpandangan sempit terhadap kehidupan yang dijalani sehingga menarik diri dari lingkungan. Perilaku membesar-besarkan masalah dan merasa dirinya paling menderita berkaitan dengan rendahnya rasa welas asih yang dimiliki seseorang. Oleh sebab itu, perlu adanya program untuk meningkatkan rasa welas asih yang dapat digunakan secara praktis. Enhancing Self-Compassion Program (ESP) merupakan salah satu metode intervensi yang efektif untuk meningkatkan rasa welas asih. Prosedur intervensi diawalai dengan meminta individu untuk mengisi skala welas asih sebagai dasar pengukuran sebelum dan sesudah intervensi dilaksanakan. Intervensi dilakukan sebanyak 6 sesi dalam satu hari pelaksanaan dengan memberikan loving-kindness meditation, compassionate letter writing, time management training, dan mindfulness practice. Hasil intervensi menunjukkan adanya peningkatan rasa welas asih yang dimiliki individu secara kuantitatif, serta perubahan perilaku secara kualitatif yang mengarah pada penyelesaian masalah yang dihadapinya saat itu. Modifikasi ESP yang telah disesuaikan dengan latar belakang sosial-budaya serta karakteristik individu merupakan suatu hal yang perlu ditelisik lebih lanjut. Adanya program intervensi yang dilakukan dalam waktu singkat dapat membantu para praktisi untuk meningkatkan kesejahteraan psikologis secara lebih luas dan efektif.
References
Arimitsu, K. (2016). The effects of a program to enhance self-compassion in Japanese individuals: A randomized controlled pilot study. Journal of Positive Psychology, 11(6), 559–571. https://doi.org/10.1080/17439760.2016.1152593
Bustam, Z., Gismin, S. S., & Radde, H. A. (2021). Sense of Humor, Self-Compassion, dan Resiliensi Akademik Pada Mahasiswa. Jurnal Psikologi Karakter, 1(1), 17–25.
Dewi, N. U., Danyalin, A. M., Wahyu, A. M., & Chusniyah, T. (2021). Self compassion sebagai prediktor optimisme pada mahasiswa Universitas Negeri Malang yang orang tuanya bercerai. Prosiding Seminar Nasional "Memperkuat Kontribusi Kesehatan Mental Dalam Penyelesaian Pandemi Covid 19: Tinjauan Multidisipliner," April, 14–25.
Marisa, D., & Afriyeni, N. (2019). Kesepian Dan Self Compassion Mahasiswa Perantau. Psibernetika, 12(1), 1–11. https://doi.org/10.30813/psibernetika.v12i1.1582
Muttaqin, D., Yunanto, T. A. R., Fitria, A. Z. N., Ramadhanty, A. M., & Lempang, G. F. (2020). Properti psikometri Self-Compassion Scale versi Indonesia: Struktur faktor, reliabilitas, dan validitas kriteria. Persona:Jurnal Psikologi Indonesia, 9(2), 189–208. https://doi.org/10.30996/persona.v9i2.3944
Neff, K. (2003). Self-Compassion: An Alternative Conceptualization ofa HealthyAttitudeToward Oneself. Psychology Press, 2, 85–101. https://doi.org/10.1016/s0761-8425(04)71291-7
Neff, K. D. (2011). Self-compassion, self-esteem, and well-being. Social and Personality Psychology Compass, 5(1), 1–12. https://doi.org/10.1111/j.1751-9004.2010.00330.x
Neff, K. D., & McGehee, P. (2010). Self-compassion and psychological resilience among adolescents and young adults. Self and Identity, 9(3), 225–240. https://doi.org/10.1080/15298860902979307
Neff, K., & Germer, C. K. (2017). Self-Compassion and Psychological Wellbeing. Oxford Handbook of Compassion Science, 186–218. https://doi.org/10.1093/acprof:oso/9780199777600.003.0008
Oktaviani, M., & Cahyawulan, W. (2022). Hubungan antara Self Compassion dengan Resiliensi pada Mahasiswa Tingkat Akhir. INSIGHT: Jurnal Bimbingan Konseling, 10(2), 141–149. https://doi.org/10.21009/insight.102.06
Putri, A. F. (2018). Pentingnya Orang Dewasa Awal Menyelesaikan Tugas Perkembangannya. SCHOULID: Indonesian Journal of School Counseling, 3(2), 35. https://doi.org/10.23916/08430011
Satwika, P. A., Setyowati, R., & Anggawati, F. (2021). Dukungan Emosional Keluarga dan Teman Sebaya terhadap Self-Compassion pada Mahasiswa saat Pandemi COVID-19. Jurnal Psikologi Teori Dan Terapan, 11(3), 304. https://doi.org/10.26740/jptt.v11n3.p304-314
Sofiachudairi, & Setyawan, I. (2018). Hubungan Antara Self Compassion Dengan Resiliensi Pada Mahasiswa Yang Sedang Mengerjakan Skripsi Di Fakultas Psikologi Universitas Diponegoro. Empati, 7(1), 54–59.
Taylor, S. B., Kennedy, L. A., Lee, C. E., & Waller, E. K. (2022). Common humanity in the classroom: Increasing self-compassion and coping self-efficacy through a mindfulness-based intervention. Journal of American College Health, 70(1), 142–149. https://doi.org/10.1080/07448481.2020.1728278
Widyastuti, W. (2020). Self Compassion, Stress Akademik Dan Penyesuaian Diri Pada Mahasiswa Baru. Jurnal Psikologi TALENTA, 3(1), 6. https://doi.org/10.26858/talenta.v1i2.13031
Wong, C. C. Y., & Mak, W. W. S. (2016). Writing Can Heal: Effects of Self-Compassion Writing among Hong Kong Chinese College Students. Asian American Journal of Psychology, 7(1), 74–82. https://doi.org/10.1037/aap0000041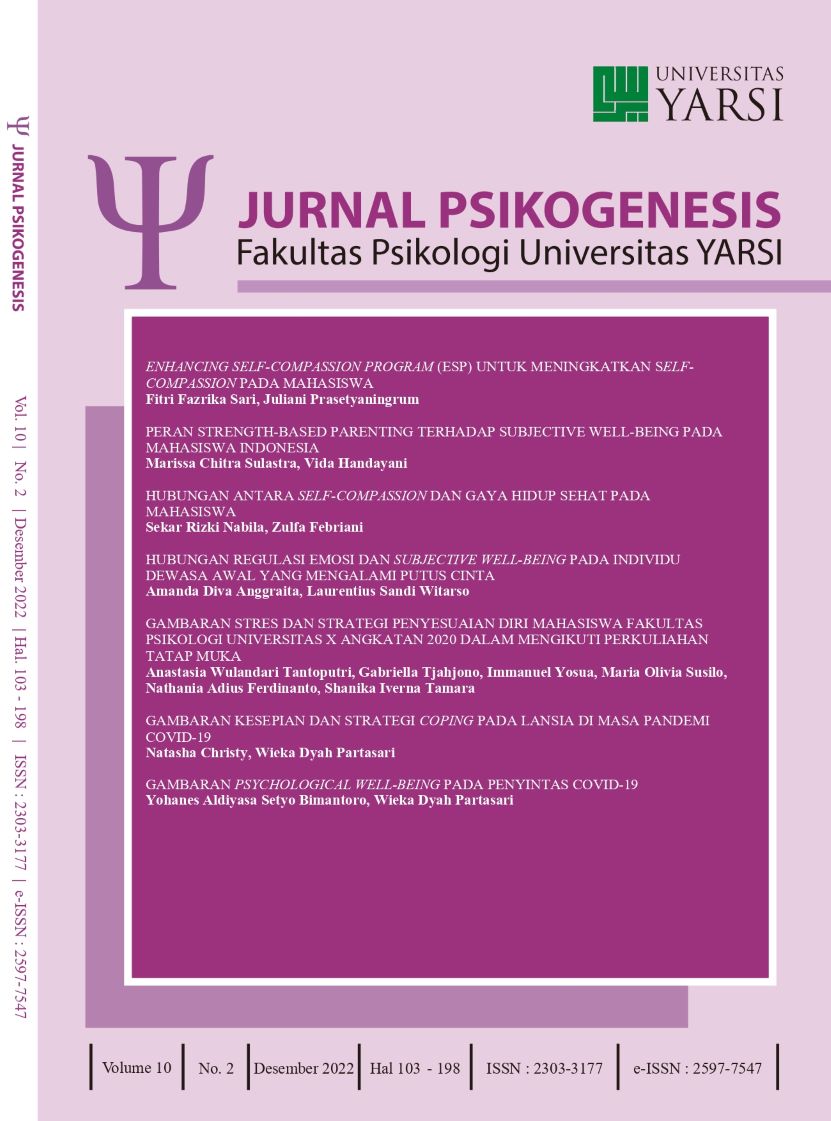 Downloads
Abstract views: 188 times

Downloaded: 88 times


PDF
How to Cite
Sari, F. F., & Prasetyaningrum, J. (2023). Enhancing Self-Compassion Program (ESP) untuk Meningkatkan Self-Compassion pada Mahasiswa. Jurnal Psikogenesis, 10(2), 103–111. https://doi.org/10.24854/jps.v10i2.2845
License
Authors who publish with this journal agree to the following terms:
Authors retain copyright and grant the journal right of first publication with the work simultaneously licensed under a Creative Commons Attribution License that allows others to share the work with an acknowledgement of the work's authorship and initial publication in this journal.
Authors are able to enter into separate, additional contractual arrangements for the non-exclusive distribution of the journal's published version of the work (e.g., post it to an institutional repository or publish it in a book), with an acknowledgement of its initial publication in this journal.
Authors are permitted and encouraged to post their work online (e.g., in institutional repositories or on their website) prior to and during the submission process, as it can lead to productive exchanges, as well as earlier and greater citation of published work (See The Effect of Open Access).