The Effect of Audiovisual Media on Adolescents' Perceptions and Knowledge of Teeth Whitening Treatment
Keywords:
perception, knowledge, audiovisual media, adolescents
Abstract
Introduction. Adolescents are unique individuals who are in transition to adulthood. At this time, adolescents have a desire to have an attractive appearance. Teenagers also tend to have a habit of smoking, drinking coffee or tea. These habits can reduce the beauty of teeth due to tooth discolouration. Currently, the availability of over-the-counter teeth whitening products is increasing. In order not to be easily influenced by the promotion of teeth whitening products, every community, especially adolescents, should have good perceptions and knowledge about teeth whitening treatments.  There are various media in conveying information, including audiovisual media. This study aims to assess perceptions and knowledge about teeth whitening treatment before and after being given education with audiovisual media. Materials and Methods. Data were collected from 200 adolescents aged 18-24 years through electronic questionnaires. The study was conducted by pre-test and post-test on the respondents who had been divided into control group (poster) and intervention group (video).Results. There was an increase in the percentage of adolescents who had good perceptions and knowledge about teeth whitening treatment after being given education. There was no difference in perception before and after the intervention but there was a significant increase in knowledge in the provision of education with audiovisual media. Conclusion.  Audiovisual media is effective in improving adolescents' perceptions and knowledge of teeth whitening treatments.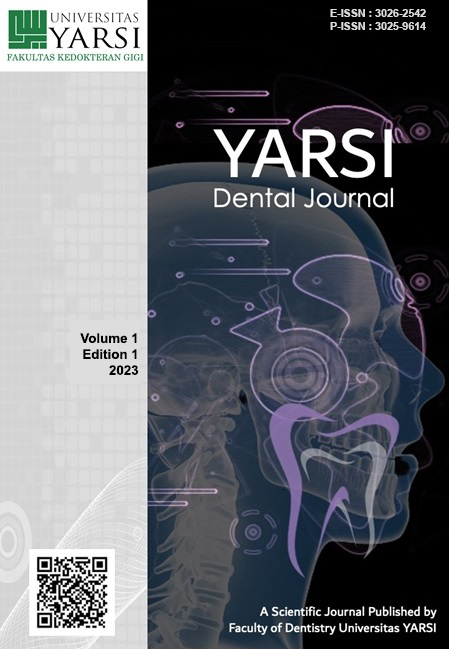 Downloads
How to Cite
Delima, A. R., & Aprianto, D. S. (2023). The Effect of Audiovisual Media on Adolescents' Perceptions and Knowledge of Teeth Whitening Treatment. YARSI Dental Journal, 1(01), 32–40. Retrieved from https://academicjournal.yarsi.ac.id/ojs3/index.php/dentalj/article/view/88