Antibacterial Effect of Black Ethanol Extract (Camellia sinensis) on The Growth of Porphyromonas gingivalis Bacteria
Keywords:
Porphyromonas gingivalis, antibacterial effect of black tea , MIC &MBC
Abstract
Background: Chronic periodontitis is one of the inflammatory diseases in the oral cavity that can cause damage to the structure of the supporting tissues of the teeth. The bacterium Porphyromonas gingivalis is the cause of chronic periodontitis which has specific virulence factors that produce lipopolysaccharides by destroying the host cell wall mechanism. Black tea with the Latin name Camellia sinensis contains theaflavins with antibacterial effects. Materials and methods: This study was an in vitro experimental laboratory study with disc diffusion method (Kirby Bauer), minimum inhibitory concentration (MIC), and minimum bactericidal concentration (MBC). The samples of this study were black tea ethanol extract with a concentration of 10%, 20%, 40%, 60%, 80%, and 100% with positive control group is  chlorhexidine 0,2%, and negative control group is BHI broth, which tested Porphyromonas gingivalis. The Kruskal Wallis test results showed that there were statistically significant differences between the diameter of the bacterial inhibitory zone produced from the concentration group of black tea ethanol extract (7 mm), 40% (8,6 mm), 60% (10 mm), 80% (10,6 mm), and 100% (11,2 mm) (P <0.05). The Spearman correlation test results (r=0.431) showed a positive correlation with moderate strength between an increase in the concentration of black tea ethanol extract to the diameter of the bacterial inhibitory zone. Result: The MIC value in this study is 10% and the result of MBC is 20%. Conclusion: the ethanol extract of black tea has an antibacterial effect on Porphyromonas gingivalis. There is an increase in inhibition zone diameter along with an increase in the concentration of black tea extract, which indicates black tea ethanol extract has concentration-dependent antibacterial properties.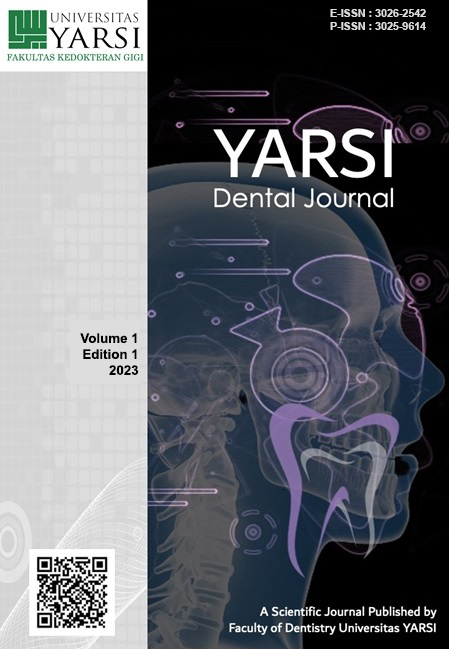 Downloads
How to Cite
Nurniza, N., Kartika, D., Maulani, C., Attamimi, F. A., & Riani, S. N. (2023). Antibacterial Effect of Black Ethanol Extract (Camellia sinensis) on The Growth of Porphyromonas gingivalis Bacteria . YARSI Dental Journal, 1(01), 19–31. Retrieved from https://academicjournal.yarsi.ac.id/ojs3/index.php/dentalj/article/view/86